Yachting (Charter, Brokerage, Building , Refit) in Bodrum, Turkey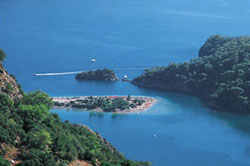 The coastline of the southwest corner of Turkey is one of the most beautiful cruising grounds in the world. A cruising environment rich in natural or historical attractions, safe anchorages within easy reach of each other, a constant breeze fill the sails and a fair certainty that the sun will shine for your holiday. Good food, fresh fruits and vegetables. Clear Unpolluted waters. Hospitalable locals and, if and when the wilderness gets too oppressive, the opportunity to have a night on the town. Most yachting havens in the world offer one or more of these to the yacht vacationer. Very few can present all. Turkey is one of the very few that has even more to give: Over 3000 years of history and culture in a land where orient merges with the Occident.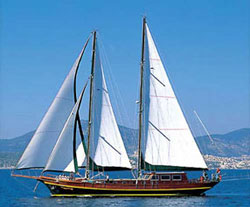 A Gulet
is a wooden motor sailing vessel, the modern version of the ancient cargo bearing craft which used to trade along the coast of Turkey. The original design has evolved into a comfortable cruising vessel. The cabins are usually for two. All of the cabins have enough storage room for your belongings. Each cabin has a separate toilet with wash basin and shower providing modern facilities and privacy. Gulets are traditional boats of Southwest Turkey. In general, gulets vary in length between 14 and 36 meters hence varying passenger capacity.
In many ways a Gulet is like a full service hotel where every room has a sea view and the scenery changes constantly.
PRIVATE GULET CHARTERS (RENTING WHOLE GULET)
If you rent a gulet privately, there will be only you and your group on board with crew. You will decide the itinerary. Depends on the availability, you can embark and disembark in any harbour, such as Bodrum, Marmaris, Göcek, Fethiye and also in Rhodes and Kos (Greek Islands). One way charter is also possible.

CLICK HERE TO SEE OUR GULETS FOR PRIVATE CHARTER
WEEKLY GULET CABIN CHARTER (SHARING A GULET WITH OTHER PEOPLE)
If you are not able to rent a whole yacht for private charter, there is still an oppurtunity for you to enjoy your holiday on a yacht. Then weekly Gulet cabin charter is for you. You rent a cabin and share the gulet (yacht) with other people from different countries.
These charters take one week (7 nights / 8 days) and full board basis and there is a fixed itinerary.
Cooking, serving and cleaning are done by the crew.
Depends on the numbers of the clients, we use between 16 meters and 30 meters gulets for these tours. Each cabin has en suite wc-shower.

CLICK HERE TO SEE OUR WEEKLY CABIN ITINERARIES & PRICES
BAREBOAT CHARTER
You can rent a monohull or catamaran with or without skipper.

CLICK HERE TO SEE MONOHULLS AND CATAMARANS FOR RENT
MOTORYACHT CHARTER
Luxury motoryachts with crew.

CLICK HERE TO SEE MOTORYACHTS FOR RENT
YACHTS - GULETS FOR SALE
We have many gulets for sale. If you would like to purchase a Turkish Gulet, please visit our web pages concerning gulet sales. We handle all sale formalities at Turkish Registry Authorities and Custom Authorities.

CLICK HERE TO SEE GULETS,YACHTS FOR SALE
GULET YACHT BUILDING & REFIT
Please

CLICK HERE
to read about gulet, yacht building and refit.