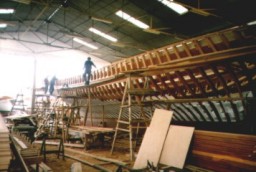 The tradition of building ships in Bodrum is as old as the town, going back at least some 2500 years. History records that Artemisia, the ruler of Caria, commanded her own naval squadron in the battle of Salamis in 480 BC, lending credence to the belief that ships were built in or near the city of Halicarnassus, the ancient name of Bodrum. The seafaring traditions of the Carians and Dorians, who lived together in Halicarnassus and supplied ships to Egyptian Pharaohs, add weight to the premise that shipbuilding here is an ancient craft. Late records, from the days of the Ottoman Empire, show that Bodrum shipyards did built ships for the Ottoman navy.

We build CE, RINA and LLYOD class wooden and steel gulets at our contracted shipyards.

Depending on the gulet size, the construction of a gulet may take from 12 to 24 months.

Please CONTACT US for further info.