Bodrum Peninsula & Beaches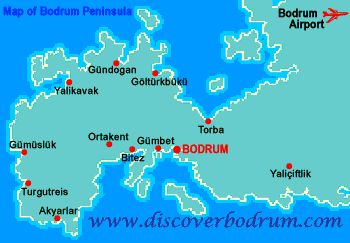 Gumbet, Bitez, Ortakent, Kargi and Bagla, Karaincir and Akyarlar, Turgutreis, Kadikalesi, Gumusluk, Yalikavak, Gundogan, Gol-Turkbuku, Torba.
There are many picturesque beautiful villages and sandy beaches which can be easily reached by minibus (Dolmus in Turkish) leaving from bus station.
Gumbet : Nearest beach to Bodrum and just 3 km. away. It is now a self contained resort with hotels, shops, bars, discos, banks and everything the tourist needs for 24 hours of non stop fun. Gümbet is also one of the most popular water sports centers
Bitez : Just 7 km. west of Bodrum. The winds are favorable for windsurfing. The beach is sandy here.
Ortakent : Nex bay to Bitez and just 13 km from Bodrum. In the early spring the village hosts an annual camel wrestling festival. There is very long sandy beach.
Kargi and Bagla : Kargi, known as Camel Beach, and Bagla is 16 km from Bodrum and there is nice beach here.
Akyarlar and Karaincir : 22 km from Bodrum and closest points to Cos (Greek Island) Winds here are ideal for windsurfing. This is one of the safest beaches for children on the peninsula. There is a tiny harbour.
Turgutreis : 18 km from Bodrum and named after the famous Ottoman admiral Turgut Reis. It is a small town in its own right and combines a compact town center with several beaches and all amenties for tourists. An ideal surfing place.
Kadikalesi : 4 km next to Turgutreis and offers some of holiday resorts.
Gumusluk : 24 km from Bodrum and protected from modern development due to Myndos, an ancient site. The simple charm of the village has survived the influx of tourism. Rabbits are raised on the island at the end of the causeway a short paddle away. There are many seaside fish restaurants. A tranquil village.
Yalikavak : 18 km from Bodrum, small but developed town and offers everything required. There are many seaside cafes, restaurants and hotels. An old olive press is converted into a showroom for kilims, carpets and jewellery.
Gundogan : Only a few minutes from Yalikavak and there are signs of antiquity in the hinterland. A couple of large hotels have been developed here in recent years.
Gol-Turkbuku :These villages, 18 km from Bodrum, are very close to each others and favorite places of many well-known Turkish artists and actors.
Torba : 6 km north of Bodrum and has two beaches. There are the remains of a Byzantine monastery.